Frequently Asked Question
Email notifications
Last Updated 9 years ago
You can use this feature if you want to receive a notification-mail to another email. This notification will be sent when new messages arrives* to your Inbox. Go to Settings / Folder Preferences to activate this feature: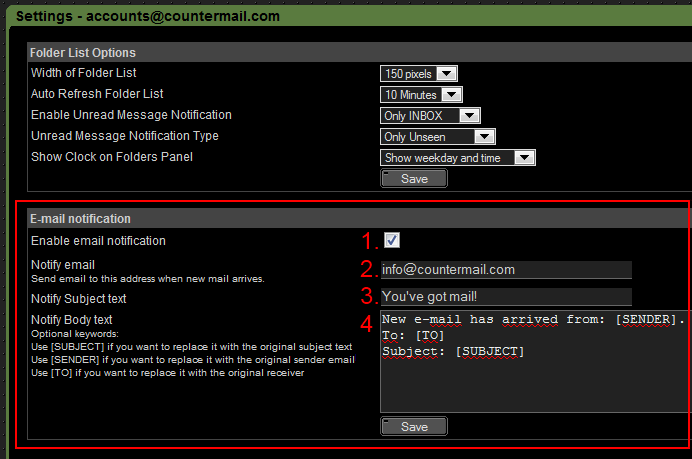 Functionality
The first time you enable a notification, an confirmation email will be sent to the other email address. The owner must login and confirm the request by clicking on the activation link. This checkbox will checked when the recipient email has confirmed, you might have to logout once in the webmail to see the changes.


Enter a valid email address (you can not enter multiple addresses)

Enter the subject text that you want. It's possible to use keywords (read more below).

Enter the body text that you want. There are some optional keywords you can use, if you add the word [SENDER] it will be replaced with the sender email. The word [SUBJECT] will be replaced with the original Subject text. The word [TO] will be replaced with the original receiver email.
Click on [Save] to store the settings.
*=There is a delay between 1-5 minutes before the notification is sent. This delay is made on purpose to increase the protection against backtracking. Only new & unread messages will be notified, if you read the message before the notification is processed, no notification will be sent.

You will not receive a notification if the email is sent from the notifying email address or from you own email address. The easiest way to test the notficiation email is by creating an alias and use it to send an email to your email address.

https://support.countermail.com/kb/faq.php?id=95