Frequently Asked Question
How do I pay anonymously?
Last Updated 4 years ago
Here are some alternatives:
ALT 1: Buy a prepaid VISA/Mastercard (sometimes called Giftcard)
NOTE! Before you buy such a card, make sure it's valid for international payments! The Nordic countries have a card called PayGoo, but other countries may have simliar cards. 7-Eleven sell these cards, for example:
https://www.7-eleven.com/Financial/Prepaid-Center/
ALT 2: Use Bitcoin


Every bitcoin payment address is unique and anonymous. Read more about bitcoin here:

http://bitcoin.org/
ALT 3: Do a cash wire transfer (bank transfer)


Go to an exchanger or bank office that can do cash wire transfers, some examples:




Nordic countries -

ForEx


USA -

TravelEx


Many countries have similar exchangers. Usually, for smaller amounts you don't need to show any identification.
ALT 4: Use your own credit card


...and delete your payment alias after you have verified that your account was upgraded.


1.

Login to your account and click on "Buy premium service" in the left menu, if your account already have expired you will be automatically redirected to the order page.



2.

Select your premium time on the order page, select Credit card, click on [Next step], select your country and go to the checkout page.



3.

After the payment is done, you will be redirected back to our activation page, enter your main Countermail-login email. This is the only place where you should enter your main Countermail-login email. Click on [Complete order].



4.

If everything went ok, you should see a "Thanks for your order"- message. If you don't see this message, you should contact us by creating a support ticket.



5.

Go back to your Inbox-page (or just login again). Go to Settings / Personal info and select your memberXXXX alias, delete it by clicking the [Delete] button. See the picture below: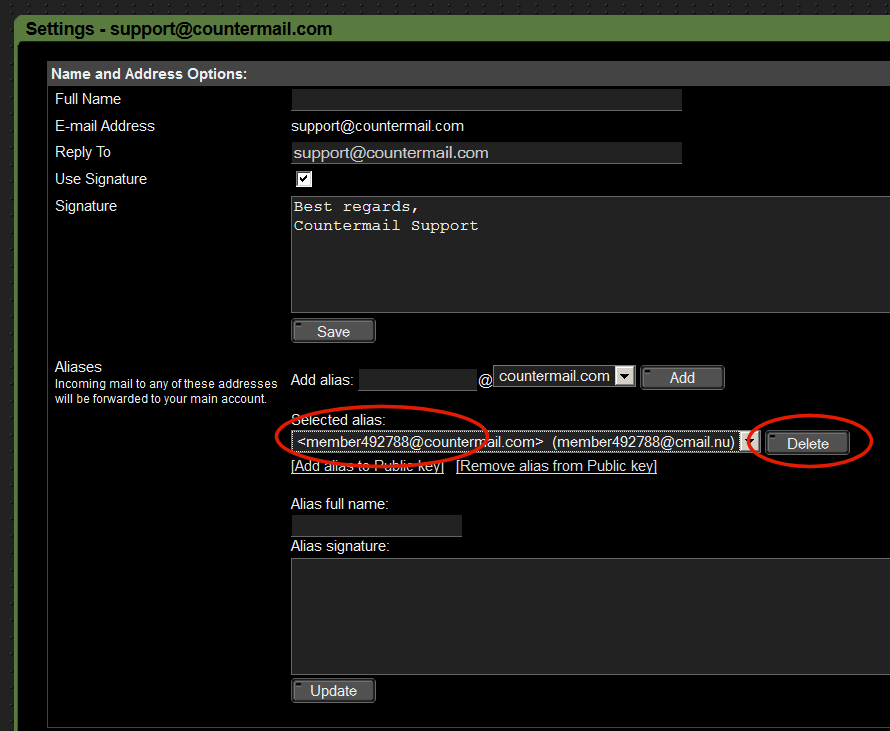 6. Logout once and login again, go to Settings / Personal information and scroll down to:
"Security settings and Account information", check that the Expire time is correct, if it's correct you can also delete the Order confirmation email.
The next time you login, you will automatically get a new random memberXXXX-alias generated, you should keep the new member-alias for future payments.
We only store payment info for 14 days, after this period there will be no link between your payment and the account you purchased, as long as you don't enter your main Countermail-account email on the credit card page.